James Madison's Jimmy Moreland was selected in the seventh round of the NFL draft by the Redskins. He visited with Wes McElroy this week to discuss getting the phone call, how to return an interception and why he's a "dog."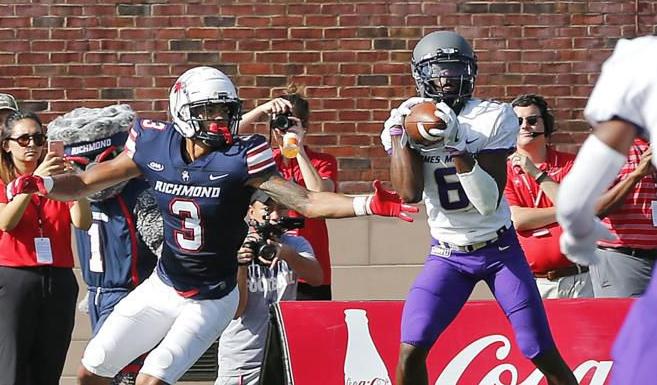 Question: What's it like trying to handle the emotions watching the NFL draft entering the last round, and your name still hasn't been called?
Answer: You know, once you get to the seventh round you're basically just nervous thinking your name won't get called and other teams start hitting you up just letting you know if you don't get drafted that you can come to their minicamps. The nerves were just being around my family who were telling me everything's OK. I was just focused on the next step. I wasn't really worried about my name being called because I know what I'm capable of doing. All I need is a shot and a chance at a minicamp.
Question: You did get the call, so has it hit you yet that you are getting a chance to make an NFL roster?
Answer: I think it hit me once I got off the phone, but it really hasn't hit me yet. It'll hit me once I get up there and start practicing. When I got the call, I was in the shower [laughing]. It's crazy because my Auntie told me she had a dream that I was in the shower when I got the call. So when that happened it was a surreal moment. Once I got downstairs, I saw my family celebrating and crying. Once I got there, it hit me.
Question: Afterward on the teleconference with reporters, someone asked you how you had 18 career interceptions to which you answered "because I'm a dog." Where did that answer come from?
Answer: Ha! I don't know it was a quick little moment. I was so hyped. But you know that moment, I was built into this, coming from (where I came from) a few barely make it out and that turned me into the person I am today. I guess that line comes from that.
Question: You returned five career interceptions for touchdowns. How would were you so successful taking them back for a score?
Answer: In high school, I played every position: quarterback, receiver, really every position besides O-line and D-line, so I always had that vision of the field to see how players were set up.
Once you get a pick, it's easy because most of the people don't think you'll get an interception. Then most of the people are reacting off you getting an interception, so basically once you get one and return it, the only think you have to get past is the linemen and quarterback.
Our defensive coordinator [at JMU] always told us once somebody gets an interception to block the intended receiver and quarterback because I can out run any lineman. So, that's where I get my returner skills from.
Question: Was there a player you watched or studied?
Answer: The person I really like to watch a lot is Patrick Peterson. His return skills and ability, once he gets the ball in his hands he can make something with it.
Question: You mentioned where you grew up and getting out. Also, many FCS guys feel a chip on their shoulder or are driven that many big schools overlooked them. I'd imagine you are taking that same underdog mentality in trying to make the Redskins' roster?
Answer: You know where I came from; I had a lot of [MAC] schools [look at me]. I went on an early visit to Toledo. Some said I was too small. Lots of big schools took their offers back, but James Madison found me and I was able to go there and have a great career.
Question: What's the best compliment you got during the draft process?
Answer: My ability to return and ball-hawk and get turnovers to get our defense off the field. My defensive coordinator at JMU, Bob Trott, he always taught us that long drives and lot of plays on defense will wear defenses down, so the best way to get a defense off the field and to get the momentum back to our offense is a big thing for me.
Question: What was the knock against you where you want to prove people wrong in the NFL?
Answer: The negativity has always been there that I'm small. Which I don't see why, because it's about ability. If I was able to make plays in college and guard top end receivers, I don't know what size is.
Once I get in the league and make plays all that will go out the window.