Morgan Moses now leads the league in accepted penalties, with 13. He's part of a Redskins offensive line that has consistently been flagged for holding and false starts this year, and it has derailed multiple drives.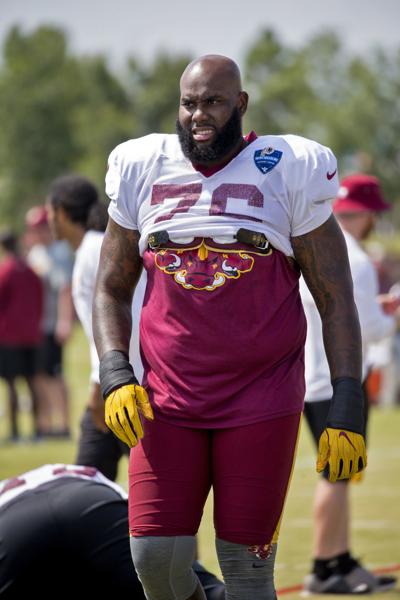 The Redskins entered the game tied with the Indianapolis Colts for the most holding calls in the league (24), and were able to take the lead during Sunday's game. Washington had just one accepted holding call, but Indy managed to stay clean.
While the players have consistently disputed the calls (except the false starts, which are obvious), at some point, it's a trend and it's one that needs to be addressed.
The Redskins finished with 15 penalties for 135 yards on Sunday.
"There's obviously some things we've got to correct," Moses said. "Obviously having different quarterbacks in there, it effects the cadence and things like that. We've got to hone in on whatever we need to do. If it's keeping the offense simple, that's it. Make sure everybody is on one page so we can execute as best as possible."
Other observations:
–After the victory in Tampa Bay, some Redskins players called out the home fans at FedEx Field, saying they didn't feel supported during home games. Sunday probably didn't help that cause. It was mostly Giants fans that bothered to show, and the few Redskins fans who did booed heartily. Hard to argue.
–It was a rough game for Hokies cornerback Greg Stroman, who struggled on each of his first three punt returns, including an "invalid fair catch signal" penalty. The Redskins continue their hunt for a reliable option.
–The trade for Ha Ha Clinton-Dix looks worse with each passing day. He has struggled to keep up with offensive players, and, worse, is taking playing time away from Montae Nicholson, who should be developing at the position.
–Tight end Jordan Reed had his right foot rolled up on in the first half and left the game. He did not return. The bigger question now is whether Reed will have to miss any offseason time as he begins his recovery.
–Linebacker Zach Brown was benched to start the game. He returned in the second quarter.
–It's time to peek at the schedule for next year. The Redskins will host the NFC West same-place finisher and travel to the NFC South team. Right now, the most likely candidates in the west are San Francisco and Arizona, and from the south, it's Tampa Bay and Atlanta.
–The Redskins ended the game with a too many men on the field penalty. Coming out of a time out. On a punt. On fourth and 3. Not the best finish.
–Saquan Barkley became the first Giants running back to run for 1,000 yards since Ahmad Bradshaw in 2012.